Defender's Quest 2 - Weaselmancer and cast preview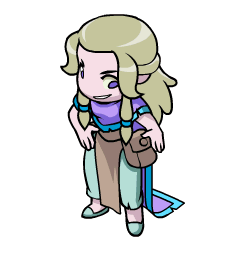 Last week we posted about DQ1HD and DQ2's milestone plan. Today let's supplement that with a sneak peek at some characters for Defender's Quest 2.
A while back we posted a little bit about Javir, Terevan and "New Guy" but let's add a few other characters to the mix. Today we're officially revealing the Weaselmancer and a preview of the rest of the cast.
SPOILERS???
I wouldn't consider the material in this post any more spoiler-ific than what you'd find in an old-school instruction manual, but if you want to know absolutely nothing about Defender's Quest 2 before release, feel free to skip this post.
---
Anyways, here's the Weaselmancer:
Cleverness Firstwatch, Weaselmancer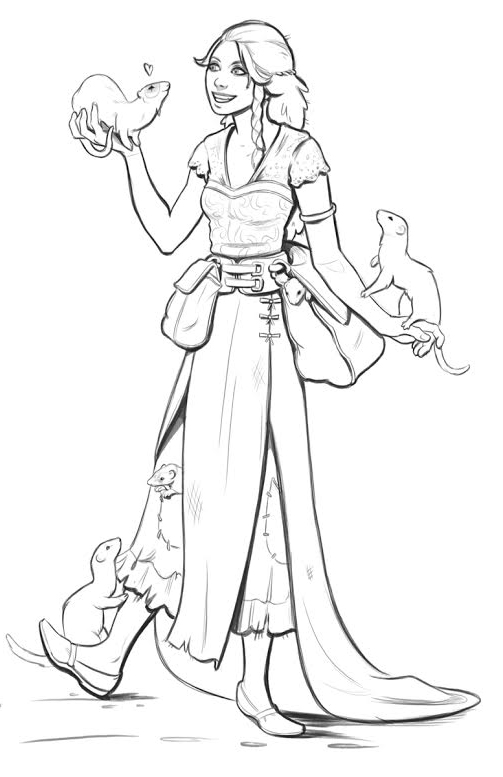 Explore Everywhere. Fight everything that moves. Steal everything that doesn't.
Age: 21
Height: 6'6" (198 cm)
Home: A weasel-filled cave
You know, a lot of people would consider being trapped in a cave-in with nothing but ferrets for company for a year and a half to be a negative experience, but Cleverness is a positive kind of person. How many people get the opportunity to experience all the health benefits of the cave lichen and dead bat diet? Or learn to talk with weasels? Or train weasels into a vicious, organized army capable of conquering a vast subterranean empire? Or feel the feeble social constructs of your upbringing slip away as you begin to adopt the values and practices of the culture around you? Or sit on a throne made of the pelts of conquered creatures as Ferret Warlord Goddess, master of all you can see (which is like, 35 feet, since you're in a cave, but still) as your weasel captains lavish you with the shiniest objects and tastiest morsels – you, their Queen and God?! Who would ever return from THIS?
What's that? A rescue party?
…Well I'm sure the whole reintegration-into-society thing will go off without a hitch.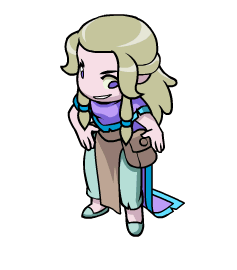 In battle she uses her army of ferrets to help friends and harass foes. Outside of battle, she uses them to harass everyone.
---
Next, here's a sneak preview of all 14 Defender's Quest 2 hero characters (well, maybe 13, as Javir and Bitey the turtle-tank kind of count as one character in battle). Remember, in DQ2 there will be no "generic" soliders like in DQ1, but there will be trained monsters that certain characters can summon that will sort of take their place.

Please note that this art is very much work in progress and quite likely to change before final release. Colors and details especially.
One thing we've tried to do is create several distinct cultures, something we'll talk about at length in future posts. The first four characters are "domed city dwellers", the next four are "miners", followed by three "sky islanders", and the last two are "rogue scavengers."
The character classes from left to right are: Capsule beast and Pilot (the "mcguffin" that replaces Azra), Fighter, Duelist, Beast Master, Weaselmancer, Guard Herald, Demolisher, Champion, Sky Whaler, Archer, Healer, Gunner, and Hermit. Big thanks to artists Blake Reynolds, Vladimir Gerasimov, and Kiryl Kahan for the awesome animations.
Here's Javir, Terevan, and "new guy" from the previous post, in animated form: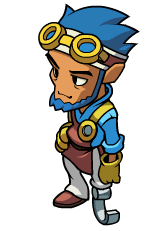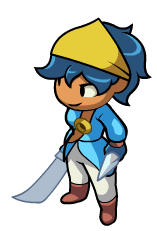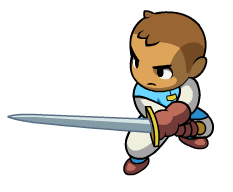 And here's a few gifs of some of the other characters we'll talk about in upcoming posts: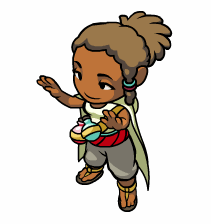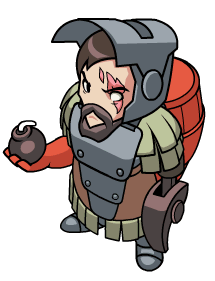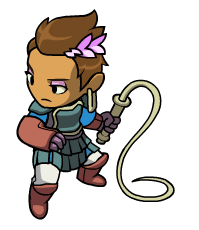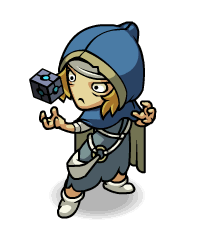 As always, you can pre-order Defender's Quest 2 here. Every pre-order comes with a FREE copy of Defender's Quest 1, which is available right now, and will be receiving a free HD upgrade in the coming months (as soon as the DQ2 engine is done).